Model-driven Apps
Far beyond dragging and dropping tables, you'll learn all the different ways Model-Driven apps can be molded to fit your company's needs and deliver features fast.
What are Model-driven Apps?
A tool to build apps that allow businesses to store, interact with and visualize their data
Designed for companies "outgrowing" excel and needing a powerful system that's customizable for the way they do business
Requires no programming experience because once the data model is built, it provides the UI (e.g. Views, Forms Dashboards) but lets you customize it
Self-Paced Course With A Coach

An expert will have your back the whole time

Beautifully Edited Videos

Saving you time while keeping you attention

The Same Tool Top Companies Use

Including Toyota, H&M, & Coca-Cola
What are Model-driven apps?
A platform to build apps specifically for businesses to interact with, store, and visualize their data
Designed for companies "outgrowing" excel and needing a powerful system that's customizable for the way they do business
No programming experience needed - once the data model is built, it handles the rest while providing you a customizable UI
What is Power-Automate?
A service to run automations including updating data, syncing apps, sending emails or notifications, and so much more
Prevents users from doing time-consuming, error-prone work
Replaces "cron" jobs (daily jobs) that require complex code
What companies use Model-driven Apps?
Beverage distributors like Coca-Cola to monitor their vending machine sales and installations
National foundations to track their grant applications and funding disbursement
Real-estate companies to manage their sales pipeline and ensure all repair technicians are dispatched appropriately
What will I know how to do after this course?
Build an ideal data model that can scale a business without roadblocks.
Customize all UI elements including niche functionality like JS
Use out-of-the-box features but more importantly, know when to customize
Leverage Business Flows & Dashboards properly to visually capture exactly what's happening in a business
Integrate Power Automate to automate tasks saving your users' time and preventing errors
Deployments, security and so much more!
FAQ
What are the classes like?
Each section is self-paced so you watch the videos and complete the projects/quizzes at your speed. All projects are "hands-on" so you will be building the entire time.
The videos are designed to be concise, in-depth, and most importantly, fun! If you get stuck you can ask your coach :)
After completing a set of sections, you'll have a scheduled meeting with your coach!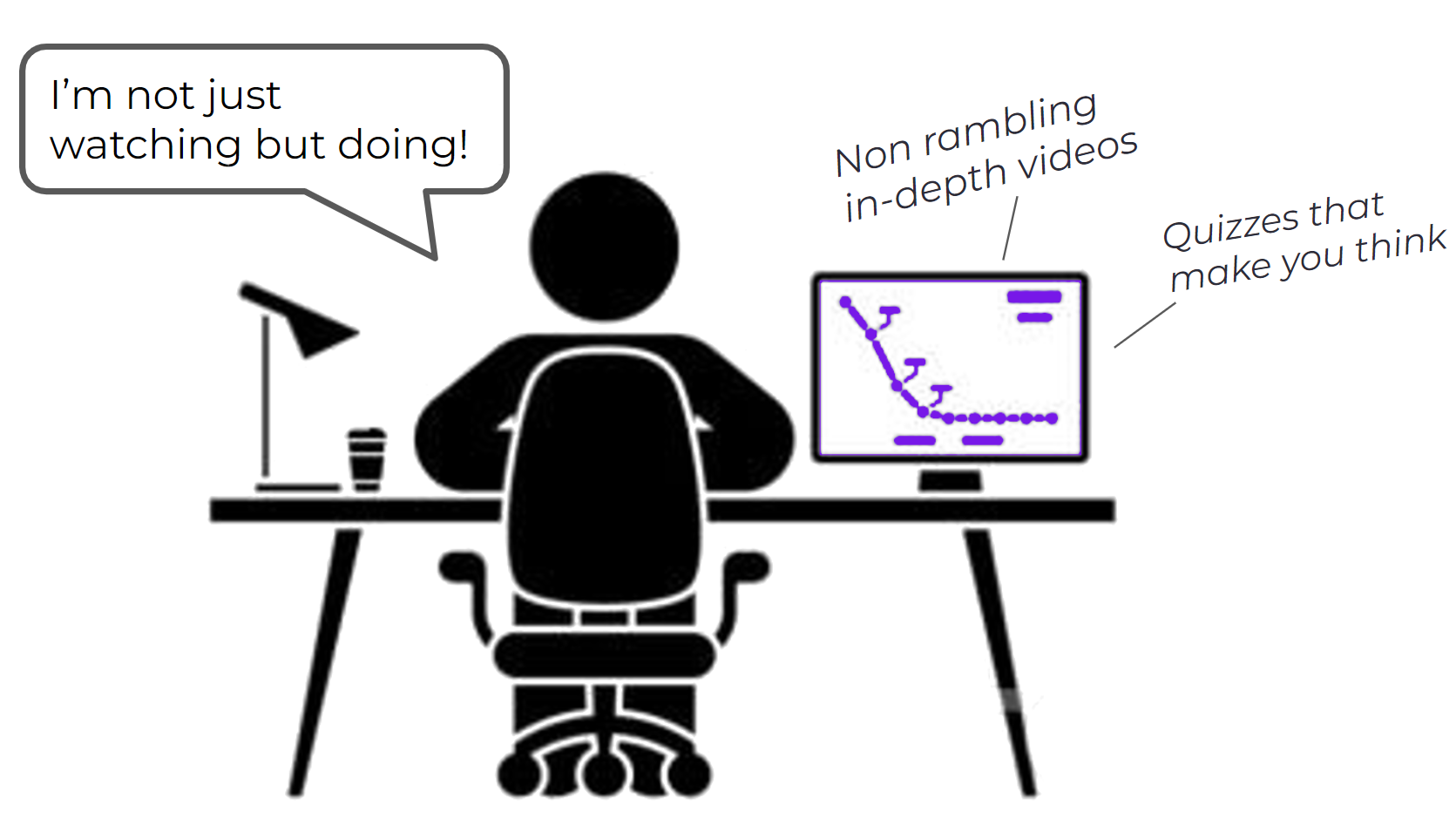 How are your quizzes "innovative"?
The "quizzes" aren't trivial true/false questions; they're thought-provoking business problems where we guide you towards figuring them out on your own so you can be successfully independent in the real world. You can see an example below in the Course Lessons.


Read more about
Our Approach
!
What do you mean I have a "coach"?
You will be assigned a coach (who works with the tool daily) who will meet with you on your schedule. These "check ins" are designed to check your progress and throw some tricky business related scenarios for you to solve together.

It's a live discussion for 15-30 about minutes to ensure there are no holes in your learning and most importantly, give you "mock business scenarios" to practice. Your coach will also be your guide to finding a new job if needed.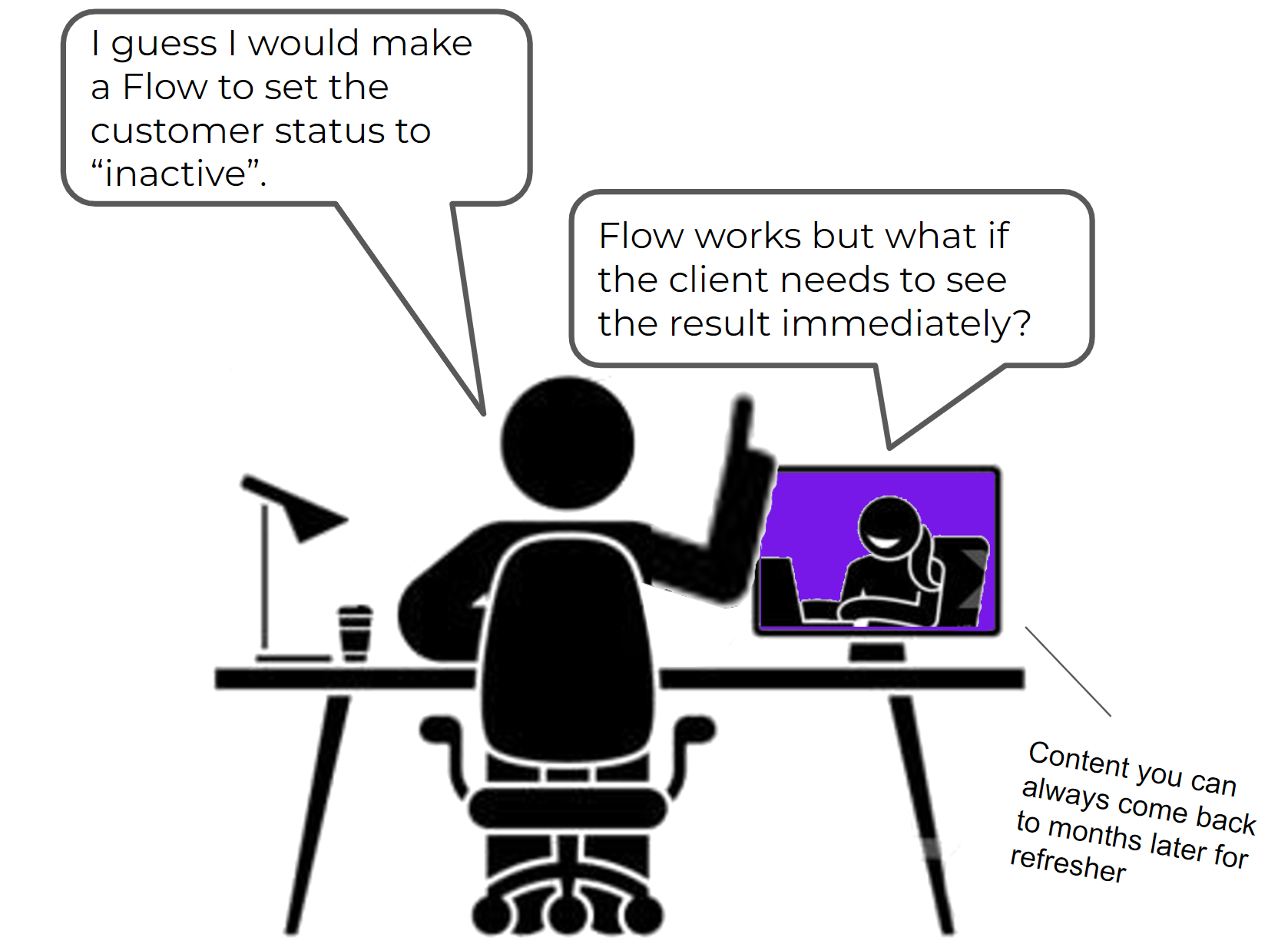 We can't force you to go to interviews but we can give you interview/resume help and introduce you to our network of companies seeking employees with the skills you learned in this course!

If you complete all sections of this course we're gosh darn confident you'll end up gainfully employed.
Can I have a "free trial"?
Sort of! You can Register for a FREE account and then take some of the free lessons in this course to make sure it's a fit. Just click Register above and then you can cherry pick any section you want below.
What's "Project Based Learning"?
Instead of passively watching videos you'll be following along and building. At the end of each chapter you'll solve a "real-world" problem to prepare you for life after this course.
Why is this course separate from Dynamics 365?
Because PowerApps is the "engine" Dynamics is based on meaning the knowledge you gain here will make the Dynamics 365 course a breeze.
Can I seriously finish this course in 7 days?
Students who exclusively focus on the course all day can finish it in a week but the average working individual finishes in about 2-4 weeks.